fEAST Theatre founded by Rob John & Mandy McKenna with the aim of showcasing new work by theatre-makers from the East of England
fEAST stage their first producton One-Eighty, written by Rob John for his former student Owen Evans of the Nimmo Twins
fEAST commissioned an original work by up & coming playwright Beatrice Armstrong & staged the resulting production Battery
Rob John began his Norfolk Trilogy with The Canada Boys, bringing to life a little-known piece of local history
fEAST were awarded an Arts Council England grant to revive the production The Canada Boys and take it on tour, including dates in London
The second of the Norfolk Trilogy, Parachute,  was set in the 'friendly invasion' of US Airmen in Norfolk during World War II and toured in the spring of 2014
The Norfolk Trilogy concluded with Winter '53, the first fEAST show to feature a community chorus. This was, again, funded by the Arts Council England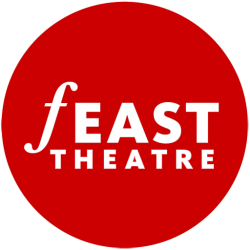 Rob John & Mandy McKenna decided to pass the day-to-day running of fEAST to regular performers Dawn Finnerty & Robin McLoughlin.Their first show together will be Salt.
fEAST theatre toured Arts Council England funded productions of SALT, adapted from Jeremy Page's novel by Robin McLoughlin directed by Dawn Finnerty and INTO THIN AIR, written and directed by Rob John.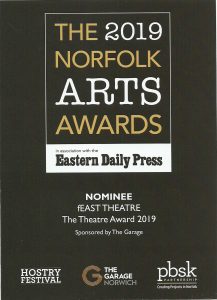 Nominated for The Theatre Award 2019 by Norfolk Arts
Our first family-orientated show and our first co-production with a theatre, 'Twas the Night Before Christmas' ran at Wells Maltings for the festive period and was supported by Arts Council England.
fEAST were successful in gaining Arts Council funding for our most ambitious year yet, a season of work celebrating 10 years of showcasing work by theatre-makers from the East. The season will start with a revival of The Canada Boys in the Spring, continue with a double-bill of Henhouse and Dulcie & Walter in the Summer and culminate with the premiere tour of Rob John's new play Rosa Mendoza in the Autumn.
The pandemic has had a devastating effect on the performing arts. Here at fEAST we were one rehearsal away from the opening of the first of our tenth anniversary tours when the theatres closed in March 2020. We have spent the intervening months rescheduling (and re-rescheduling) the planned season so that, as soon as it is safe to do so, we can get our three shows on the road, better than ever!  We have also spent the dark time planning for future seasons, collaborations and projects- of which, more news soon.
We did, however, manage to create new work in 2020 during the brief times when it was thought safe to assemble audiences: Signal Fires and Merrily On High.
In October and November 2020 fEAST joined with the UK's leading touring theatre companies including Headlong, High Tide, Kneehigh and Paines Plough to take part in the Signal Fires Project to celebrate the vibrancy of touring theatre, and highlight the threat our industry continues to face. In Stories From the East we performed a firelit selection of storytelling, songs and snippets from past fEAST shows in a socially-distanced, Covid-safe outdoor performance at Wells Maltings.
We were delighted to return to Wells Maltings in December with a trio of specially commissioned monologues, Merrily On High. These were O Come Let Us Adore Him, written and directed by Rob John and performed by Dawn Finnerty, Comfort and Joy, written by Robin McLoughlin, directed by Dawn Finnerty and performed by Owen Evans and The Triumph of the Skies, written and directed by Rob John and performed by Sam Thompson. These funny, thought-provoking and poignant stories with a dash of the macabre, brought some much-needed light and warmth to Christmas 2020.
Due to our Signal Fires show being postponed due to covid in 2020, Wells Maltings recommissioned the show to launch its reopening on May 28th and 29th May 2021. In this socially distanced, outdoor show, 6 actors from fEAST performed songs and scenes from several of our best known shows and offered a glimpse of new yet-to-be-performed work.
Our delayed 10th anniversary season kicked off with a brand-new play by Catherine Herman (Bowles), a London-based actor and writer who was born in Norfolk.
The play was one of the first to tour since restrictions eased, playing to theatres in Norfolk and Suffolk. Barbara Horne shared the role of Dulcie with Catherine.
The second tour to hit the road was Rob John's new play Rosa Mendoza. It explored the experience of an EU citizen working in the Cromer holiday industry in Brexit Britain. This play toured Norfolk and Suffolk in the Autumn of 2021.
We were thrilled to work on another brilliant Christmas show by Nick Lane – Hansel and Gretel and produced in collaboration with Well Maltings. The show featured songs and puppetry with a distinctive Norfolk twist on the classic tale. Sadly, the show had to close after 4 performances due to covid contact but will back again for Christmas 2022!!
Completing the 10th anniversary season, was a revival of The Canada Boys which we toured in 2022 as well as making an audio version available online. The tour was a success and noted as ' one of the truly great Norfolk plays…A triumph of concentration and dedication'